Landscape and Design
Reminiscent of a waterfall from the sky. Produces in collaboration with a world-reowned glass artist.
Scroll
Landscape
BLENDING WITH THE SURROUNDINGS TO BECOME A SYMBOL OF THE CITY.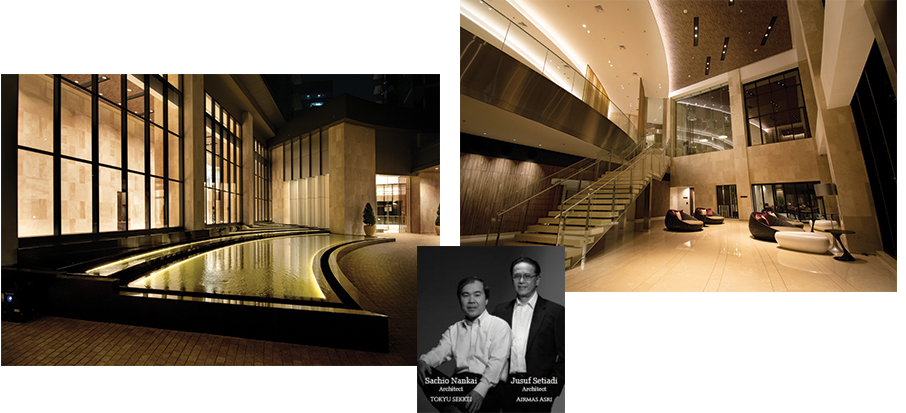 Rather than a foreign structure that stands out from the rest of the city, our aim is to create a building that will become the face of the city and accentuate the city itself. We have studied the color of all the things that make up this land, such as the plants, soil, housing, and traditional culture. We have analyzed a massive volume of data to derive a color concept for BRANZ Simatupang that is in harmony with the city of Jakarta. The design of the exterior is based on the image of a waterfall. The glass waterfall flowing down from the sky exudes a strong presence while resonating with the city, and fills the hearts of the residents with pride.
Interior Design
A SPACE WORTHY OF BEING CALLED A WORK OF ART.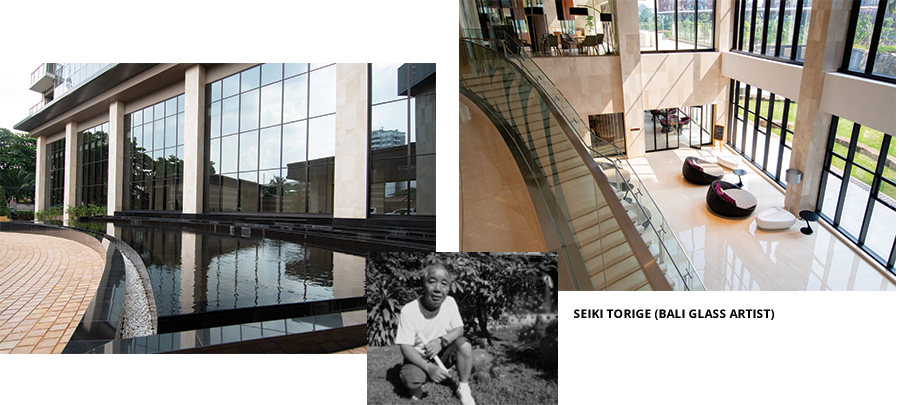 Born in Kyoto in 1941. Studied glass production in Milan, Italy, and established a studio in Daikanyama, Tokyo, in 1978. Since then, he has created magical works of art that push the boundaries of what is possible with glass. Relocated artist who also creates decorative art for famous luxury resorts. A residence that matches the sensibilities and lifestyles of global citizens. It harmonizes beautifully with the city, and enriches the hearts of people.
Fusing the Beauty of Indonesia and Japan Through A Waterfall Motif. Enjoy A Moment of Luxury as You Immerse Yourself in Nature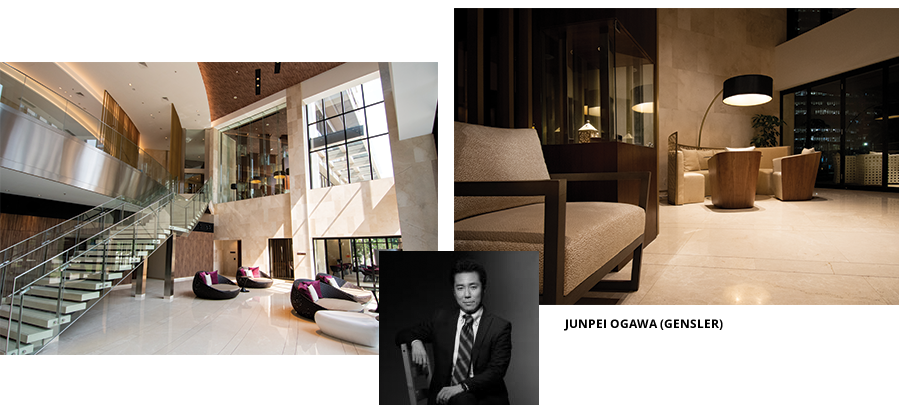 The GRAND STAIRS LOUNGE is a venue for relaxing and conversing with others. The slits, which make use of the sliding doors used in Japanese homes, bring to mind the image of waterfalls and create a dynamic and sophisticated space. the colors for the entire space have been coordinated based on hues derived from the soil and plants of Indonesia. Space offers you luxurious moments of relaxation as you immerse yourself in nature.